Commissions
Please read my Terms of Service, and then choose the method you'd prefer below to reserve a commission slot.
You will be added to my queue within 1-2 business days.Please allow up to a week for me to send out the invoice and begin the work on your project.Active supporters on ko-fi, and Twitch subscribers get a 10% discount or more on all commissions
---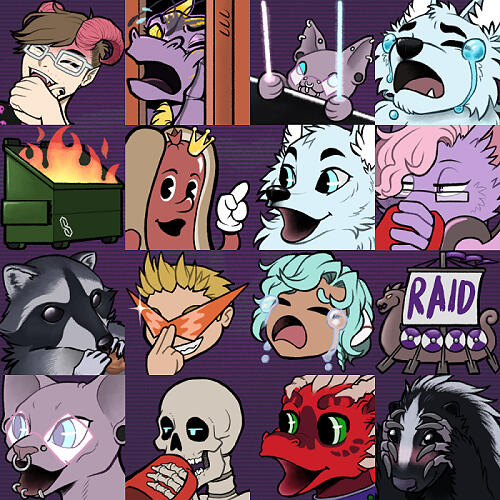 Emote / Telegram Sticker
512x512px
Full color, transparent background
Minimal shading when needed$35+
Price increases with complexity
Avatar / Portrait
1000x1000px.
Full color, simple background.Flat color - $40
Shaded color - $50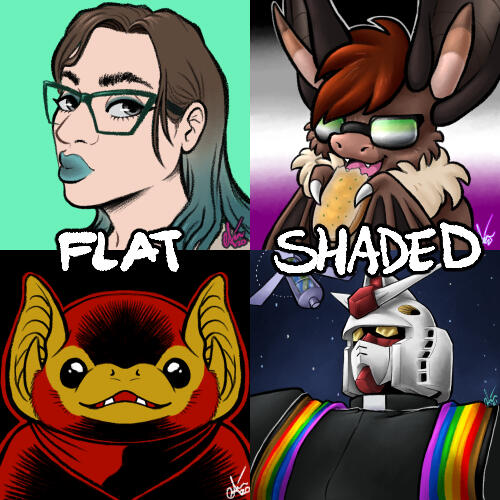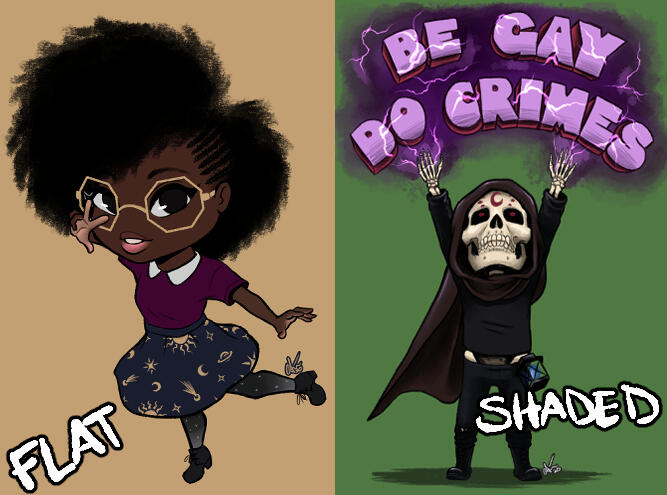 Chibi
Single character
Simple to moderate backgroundFlat color - $60
Shaded color - $75Additional characters +100% of base price
Half-Body
Single character, waist-up
Simple to moderate backgroundFlat color - $60
Shaded Color - $75Additional characters +100% of base price
NSFW +50% of base price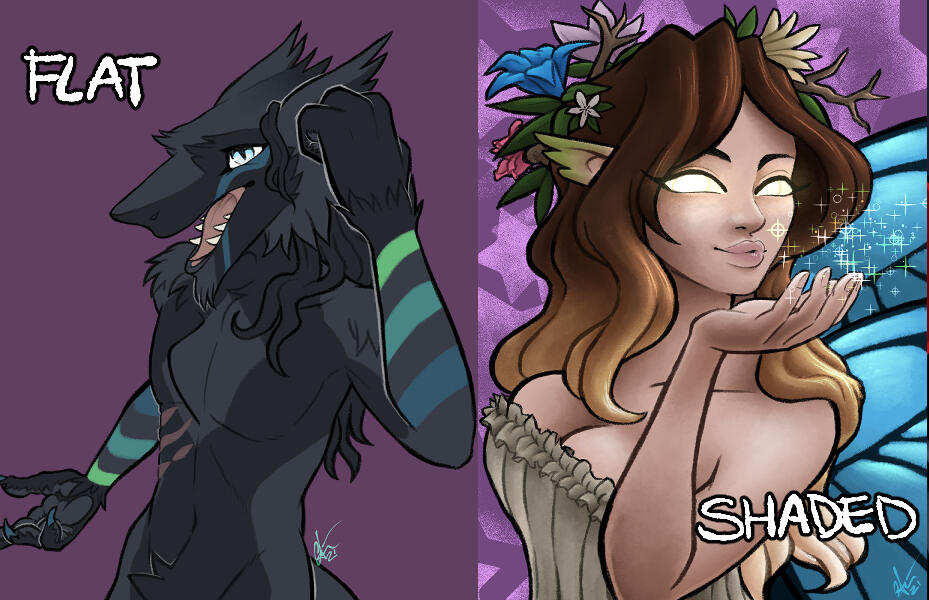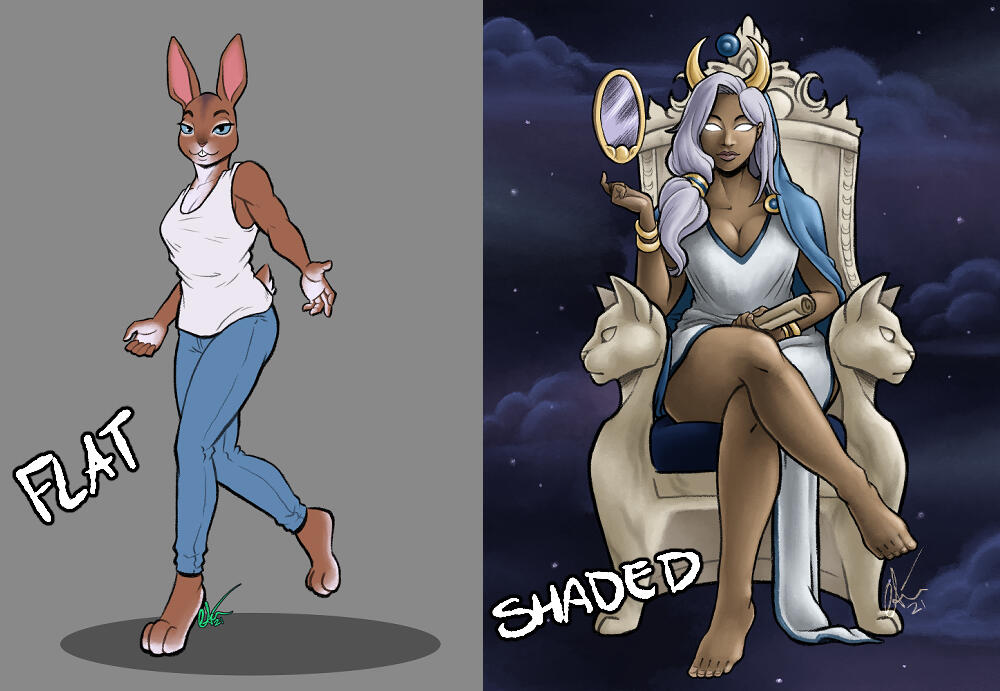 Full-Body
Single character
Simple to moderate backgroundFlat Color - $75
Shaded Color - $90Additional characters +100% of base price
NSFW +50% of base price
Reference Sheet
The base price includes 2 full-body poses (eg. front and back) and 2 detail shots (eg. face markings, special anatomy, important accessories), a color palette, and a simple backgroundFlat color - $150+
Shaded color - $180+Add more full-body poses for $30 each
Add more detail shots for $20 eaNSFW content is an additional 50% of the base price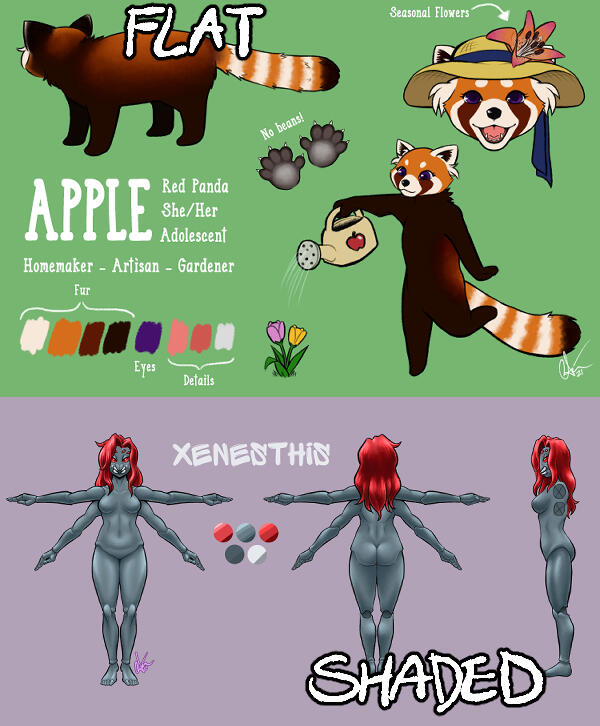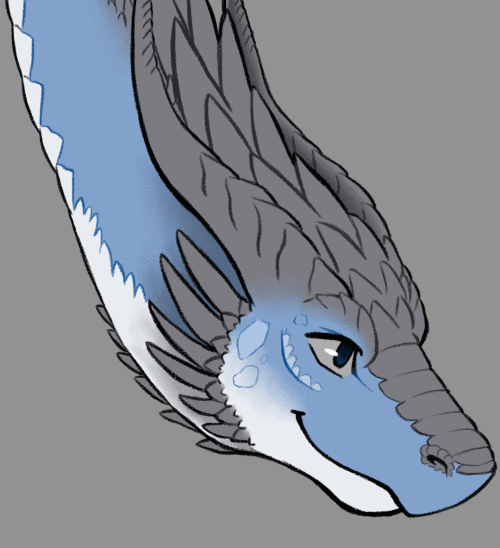 PNGtuber avatar / model
Flat color. One character.
Transparent background.Two PNG images:
"Idle" & "Talking"$70+
Price varies with complexity
Additional "poses/expressions" are $25 each
Half-Sheet Illustration
Half-sheet (5.5x8.5 inch) illustration.
Includes moderately detailed background.Black and white - $150+
Flat Color - $175+
Full-shaded Color - $200+Prices listed are the base rate, final price depends on complexity of the piece.Additional characters +100% of base price
NSFW +50% of base price
Contact
Please use this form to contact me with questions, feedback, or business inquiries.
You can call me "EXTINCT"
You probably know me as a small purple bat on the internet.Born in Northern California in the mid 1980s, I moved to New England in early adulthood and reside there to this day.My pronouns are they/them. I am a two-spirit, mixed indigenous (Pomo & Konkow Maidu) and nikkei. I identify as agender nonbinary.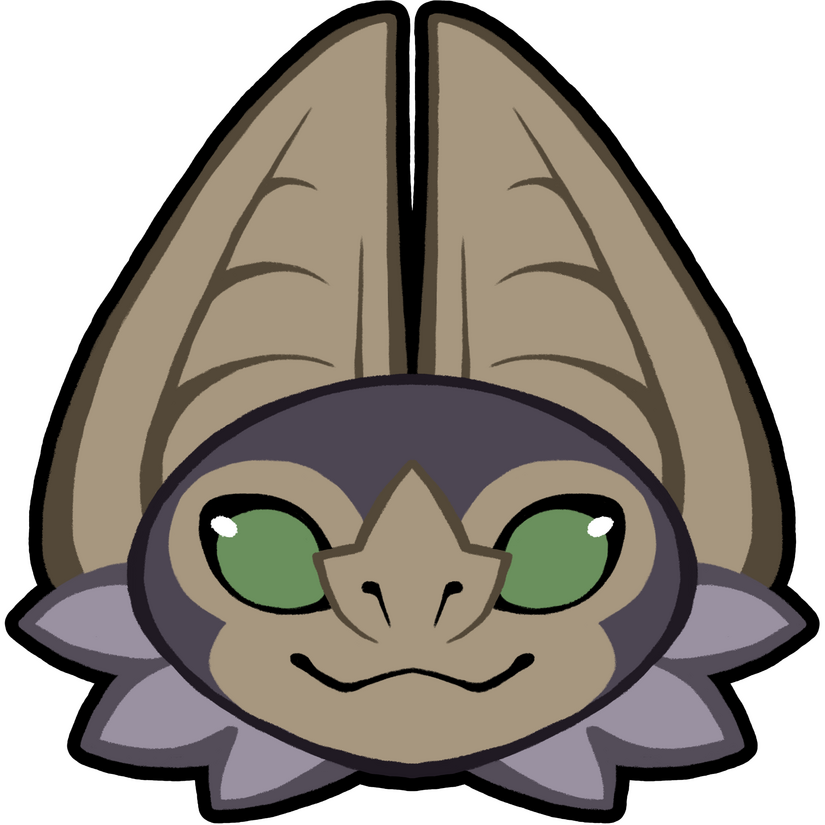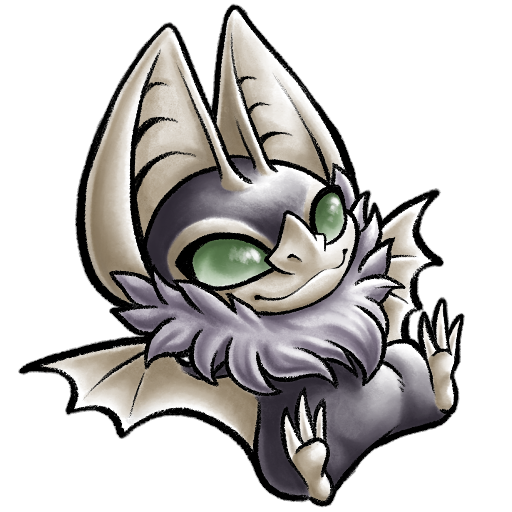 A self-taught illustrator, I specialize in using digital and traditional media to challenge aesthetic conventions and harness the ethereal qualities of the monstrous, macabre, mythological and extinct and create something new, unsettling and beautiful from them.For roughly two decades, I have been doing freelance art professionally, and have done work for clients such as Ravelry, Out of Step Books, Street Fight Radio, Flat Iron Books, and others.My work has been published in works such as Contemporary Krampus: A Modern Look at an Ancient Legend, Eight Arms of Inspiration, Pandæmonium: Devils, Demons & Monsters and Sludge Street: A Dorohedoro streetwear zine, and more!
Aside from drawing, I'm also a part-time streamer, a 2D model maker for vtubing and similar pursuits, an experienced knitter and crocheter, and I also dabble in sculpting both via digital means such as ZBrush and Blender, as well as with physical media such as needle felted wool.
I'm also known to spend some amount of time enjoying a video game or two, and have been known to be a little bit of a movie watcher.
Terms of Service
By hiring me, you acknowledge that you have read and agree to these terms of service.All types of work and prices listed below are for non-commercial clients only. If you are interested in hiring me for commercial work, please contact me directly.I do not and will not ever do work that is intended to be minted as NFTs/crypto/blockchain technology and will not permit my work to be used for any purposes related to NFTs/crypto/blockchain technology.Payment: All prices are USD and I only accept payment via invoice. Payment in full is required up front. I will not accept any form of cryptocurrency.Prices/Rates: Whatever prices are currently listed are what I charge for the described work. I'm not going to haggle about my rates for any reason. Additional characters for Chibi and Character Illustration commissions are +100% of what the single character price is.Refunds: I only offer refunds if I am, for some reason, unable to complete the work as agreed upon.Revisions: I will offer progress shots as I work and a few small edits and alterations may be requested during this time. Major revisions are not accepted past the sketch stage without an additional charge for the extra work.Reposting: Once a commission is complete and paid for you may repost it as you wish. I do ask that credit always be given, especially if the image has been cropped in such a way that my signature is no longer visible. I reserve the right to use and post the work as I see fit.Slots: I only take on up to five (5) commissions at any one time, so avoid being overwhelmed with projects and having my turnover suffer from delays. If all 5 slots are full, you can request to be added to a waiting list and contacted once slots open up.Discounts: Discounts are offered to those who provide recurring monthly support via Ko-Fi and Twitch. Subscribers on both platforms get 10% (tier 1), 15% (tier 2), and 20% (tier 3) discount. These discounts do not stack and cannot be combined for a larger discount amount.
---
Below is a general list of the subject matter I will or will not draw. These are not up for debate or negotiation and this list can change at my discretion.
| Will Draw | Will NOT Draw |
| --- | --- |
| Full nudity & sexual content (Adults) | Any nudity & sexual content (underage subjects) |
| Gore/Violence | EroGuro/Rape/Snuff |
| Body/Bio Horror | Bestiality/Zoophilia |
| SFW Feral | Feral porn |
| Transformation/Macro/Micro | Scat/Watersports/Vomit |
| Ethical BDSM | Anything related to or used in the production of NFTs, cryptocurrency, or blockchain technology |
Shop
You can buy prints and/or merchandise of various sorts featuring my artwork and designs on the following sites: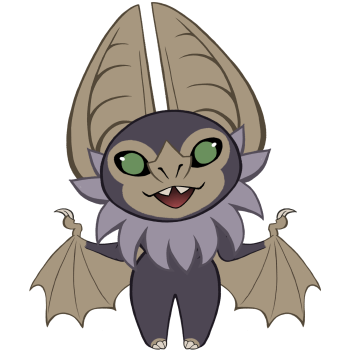 I primarily stream my art process, but I occasionally play games. Generally, my streams are a chill and comfortable place to vibe, relax, and chat.I am what is known as a VTuber, meaning I represent myself on-stream with a character, using the model on the left, which I made.
Suikawari YCH
🍉$40 each
🍉Any species, any gender
🍉Background included
🍉Humanoid or Furry OK!Reference image of character required!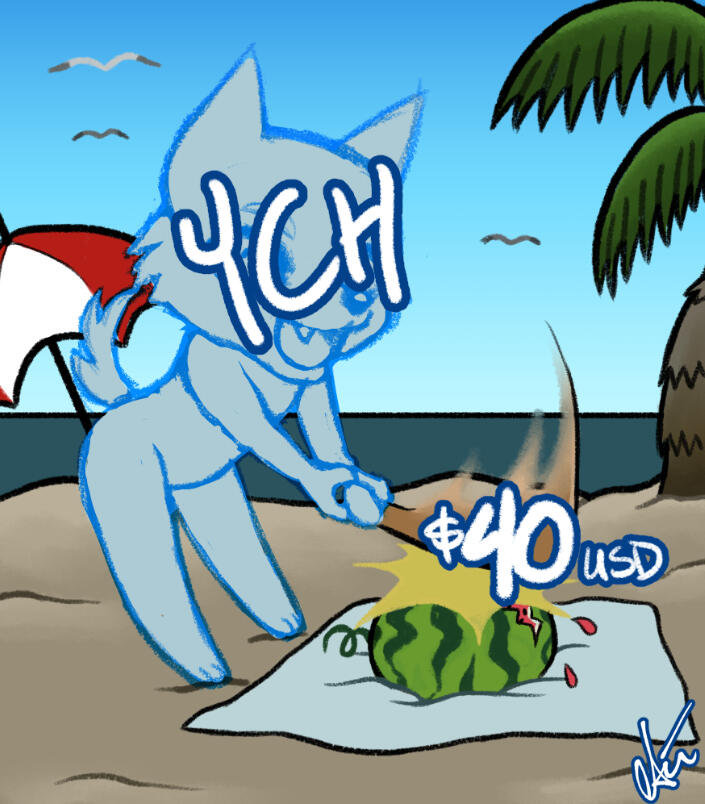 Content beyond this point is only to be accessed by adults 18 years old or older.Please confirm that you are legally of age to view this content.